Happy Cinco de Mayo! I enjoyed this amazing margarita a few years ago at the Food Truck Park in Tulum Mexico. Cheers!
Ingredients
1.5 oz Blanco Tequila
1 oz Orange Liqueur, such as Triple Sec, Cointreau, or Grand Marnier
1/2 oz Lime Juice
Dried Rosemary Sprig
Tajín Clásico Seasoning
Instructions
Shake all liquid ingredients with ice. Strain into a Tajín-rimmed glass and top with fresh ice and a slice of orange. To finish, add a dried rosemary sprig and light with a small torch or match.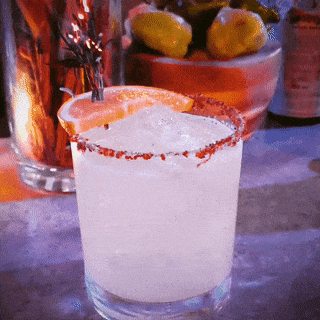 Located in the heart of downtown Tulum, the Food Truck Park includes a bar and different food and drink options.